Helping your family grieve
with dignity and cultural sensitivity

in whatever way you need
Funeral Services Brisbane
Heaven Funerals is owned and operated by Ross and Lee Pokere and our family. Because we are qualified funeral directors and embalmers we are able to take care of your loved one from start to finish. We take great care every step of the way so that your family get to say farewell in the way you see fit. We will never make you feel rushed.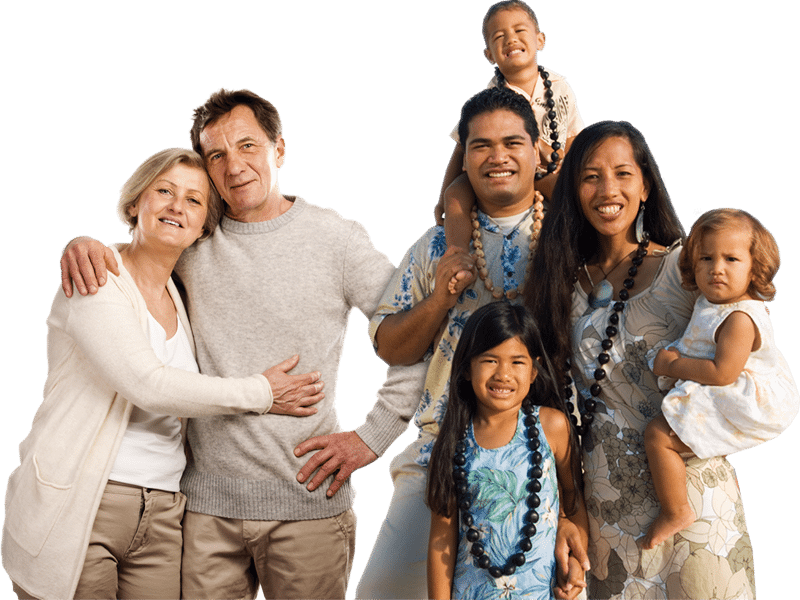 Heaven Funerals offer professional funeral services throughout Brisbane and the surrounding areas, including Logan, Ipswich, Redlands, Gold Coast and Sunshine Coast. Our range of services are personally tailored to suit your wants and offers you everything you need when celebrating the life of your loved one.
We have over 20 years combined experience in Christian, Buddhist, Sikh, Hindu and atheist funerals and understand the need to let you grieve the way you see fit.
Coming from mixed heritage ourselves we feel comfortable providing for European, Asian, Polynesian and all other cultures. Our mantra is that "your way" is the right way for you to grieve.
Heaven Funerals are the first fully New Zealand Qualified Funeral Directors and Embalmers to operate out of Brisbane, Australia.
We're here any time of the day or night. You call us and we'll pull out all the stops to be where you need us to be. If you have a general enquiry you can also fill out the form below and we will get back to you as soon as possible.
From the initial phone call, he was the only funeral director willing to provide a detailed quote and give a step by step outline of the process to help clearly understand what needed to be done. His openness and transparency just over a phone call allowed us to save time to focus on other matters to prepare for the funeral. They were so accommodating to our needs and requests, coupled with their promptness it made the whole process so much easier for us to organise and fulfil our plans for the week. Ross was also very sensitive towards our cultural and religious beliefs and requirements. We loved that during each step Ross was always there to guide us through the process, giving us the necessary instructions to take care of our father up until we laid him to rest.
Our family highly recommend Ross and his family at HEAVEN Funerals. We recently lost our Dad who he looked after with such love and care and then we lost our brother just over a month later. We have just returned from laying him at rest in New Zealand, now side by side, together forever. With Ross and his family's love, care and attention to detail they looked perfect here in Australia for our service and perfect when we collected them both in New Zealand, we will be forever grateful for your kindness and making this very sad process so much easier for us. None of us want to go through this but when we do it really helps to have such caring people look after our loved ones past. Thank you from the bottom of our hearts for helping us get through this very emotional time, we really appreciate how our precious loved ones were looked after in your care. From the Estrop Family
Ross and his family are outstanding! They provided a service to our family that will have a lasting impact in the years to come. They were sensitive to our family requirements and went above and beyond in their professional service. We are eternally grateful. I would highly recommend Heaven Funerals to anyone who requires the service of a funeral director. Thank you.
The love and respect we feel towards Ross and Lee Pokere is huge!!! Not only did they care for our boy in such a spiritual way, they went the extra mile to ensure that our needs were consulted and respected, nothing was too much. Our boy will forever be remembered, Heaven Funerals was a massive part of making our day incredibly special…Thank you Ross!!!
Thank you for being an amazing company… for your guidance, support and genuine caring attitude throughout the whole service for my mother. I know she was in good hands all the way from Brisbane to Sydney and for that, I am so grateful. It felt like family were looking after us, rather than just a stock-standard, run of the mill funeral parlour.
We are so glad we used Heaven Funeral services. They are amazing at what they do and took a lot of the stress off what is involved in organizing a funeral. They not only took great care of Mum, but they were very sensitive and considerate of our needs as a whole family. Thank you Ross and team for helping to make Mums funeral a special experience. We will not hesitate to use your services in the future. Best regards; Maumau, Moa, Boreliz and Emeliano families.
We were so pleased with the wonderful caring service we received from Ross and his family at Heaven Funerals. Nothing we asked for was too much for Ross and his excellent team. Ross assisted us in this difficult process, every step of the way. You don't realize what is involved in organizing a funeral until you find yourself in that situation, as we did with the recent and unexpected passing of my father. Their combination of caring for our needs in a sensitive way and their expertise, made this a happy experience as we celebrated the wonderful life of my dear dad. I highly recommend Ross and his team for their professional funeral services.
On behalf of the Kaleopa family, we would like to give our sincere and heartfelt enormous gratitude for your genuine loving, caring, sensitivity, respectfulness, supportiveness and willingness to cater to our needs for our father's funeral Veletalo'ola Notoa Samuelu Kaleopa. We would be honoured to highly recommend your business to others and delivering such high quality of service, it makes such a burden experience become so much bearable. We extend our love and gratitude to your family Ross and Lee and gladly adopt you as being part of our family. Love and blessing always xoxoxo